America's Cup – Shotokan Shobu Ippon-Sanbon Tournament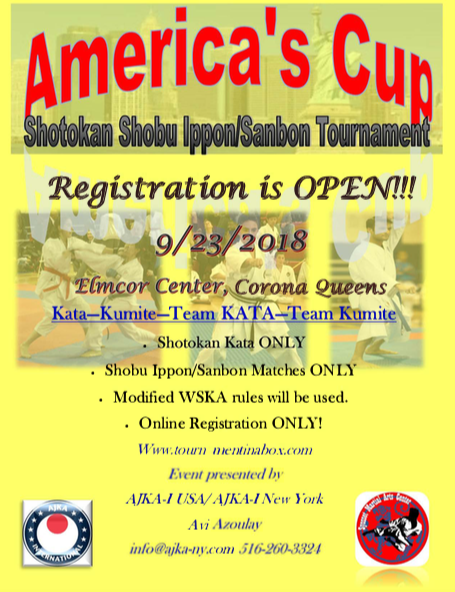 March 14, 2018
Dear Sensei/Competitors
It is with great pleasure and pride that we invite you and your students to the 2018 America's Cup Invitational Shotokan Championships, sponsored by the AJKA-I of New York And sanctioned by AJKA-I USA, to be held on Sunday, September 23, 2018.
This event will utilize modified WSKA rules. The championships will be held at the Elmcor Athletic Center, 107-20 Northern Blvd., Corona, Queens NY 11368.
Enclosed you will find all the relevant information for you and your students. We offer divisions for all ages & level, both in individual and team events.
Pre-Registration is REQUIRED in order for the event to run smoothly. Kindly avoid the late fees and register@ www.tournamentinabox.com by September 17, 2018. Registration will close on Sep­ tember 21st, at midnight.
There will be NO REGISTRAION AT THE DOOR. ALL REGISTRATION MUST BE DONE ON LINE.
We hope that you and your students can join us in this very special event at the Elmcor Athletic Center, 107-20 Northern Blvd., Corona NY 11368. We are personally looking forward to seeing you there.
Please encourage your students to register early.
Sincerely yours,
Sensei Avi Azoulay,
Championships Director
4th America's Cup Karate Championships
AJKA International event presented BY AJKA-NY
AJKA-I USA Sanctioned event
[table id=6 /]
The director of the event has the right to break or combine any division due to quantity of competitors.
[table id=7 /]
4th America's Cup Karate Championships- Divisions Chart
[table id=8 /]
The tournament director reserve the right to change or combine divisions if less than 3 contestants are present.
All fees are final and non-refundable.