Warwick Shotokan – Karate Championship 2017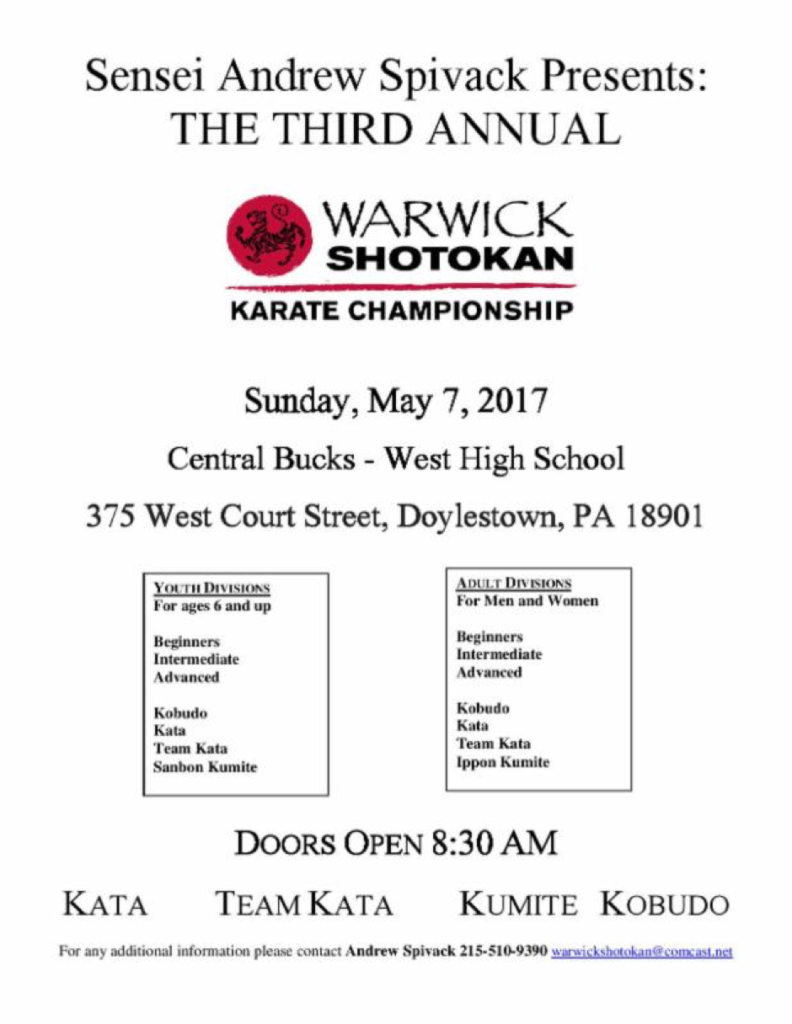 THIS YEAR WE ADDED A DIVISION FOR KOBUDO (WEAPONS)
Since this is the first year we are limiting the weapons to only the traditional Bo Staff. The Division will be broken down to All Ranks 12 and under, All Ranks 13-17 and All Ranks 18 and above. The Division will be held immediately after the Tournament Opening before Team Kata.
If you have any questions please feel free to reach out to me.
Sensei Andrew Spivack
215-510-9390
warwickshotokan@comcast.net
TOURNAMENT INFORMATION
Sunday, May 7, 2017
Central Bucks West High School
8:00 AM Doors will open for same day registration.
9:00 AM Judges and Referees Meeting
9:30 AM Calling and marching in of the participating schools followed by the Dojo Kun and announcing of all new Black Belts
10:00 AM Tournament will begin with Kobudo, followed by Team Kata, Kata and Kumite
Please note that the regular early admission price is $60.00 for registration received before May 3, 2017 and $75.00 for the door price. This amount will cover all four (4) events. Please make sure you register early.
All pre-registration forms must be postmarked by May 3, 2017 or emailed to me.
Tournament T-Shirts will be available in advance and at the Tournament.
Last day for Tournament T-Shirts will be April 17, 2017 at 5pm
If you wish to pay online there is a Paypal link below that you can utilize, but your form must be emailed back to me (warwickshotokan@comcast.net) in order to be registered for the tournament.
ANY PERSON/TEAM INTERESTED IN PARTICIPATING IN TEAM KATA MUST SUBMIT THEIR APPLICATION ON OR BEFORE THE PRE-REGISTRATION DEADLINE OF May 3, 2017
***NO SAME DAY ADMISSION WILL BE ALLOWED FOR TEAM KATA***
2017 WARWICK SHOTOKAN KARATE CHAMPIONSHIP
REGISTRATION PACKET
CLICK HERE 2017 REGISTRATION PACKET
Judges & Referees Needed
It is our hope that each school in attendance will be fairly represented in the rings. It is important that any of your Black Belts that are not competing sign up to be a Referee or Judge at the Tournament.
To prepare the Black Belt volunteers we will be holding a
Free Referee/Judges' Seminar and Free Competitor Training Practice before the Tournament to make sure everyone understands and knows the Rules; date to be determined shortly.
Attendance at this Seminar is required in order to be a Referee or Judge.
Please feel free to call or email me any questions prior to the Tournament as I want to make sure this event runs as smooth as last year
CLICK HERE FOR THE JUDGE & REFEREE FORM
INSTEAD OF MAILING IN YOUR REGISTRATION FEE YOU CAN PAY FOR YOUR REGISTRATION ONLINE
Warwick Shotokan Karate Championship
2017 WARWICK SHOTOKAN KARATE CHAMPIONSHIP
SOUVENIR T-SHIRT
If you are interested in purchasing a Souvenir Tournament T-shirt for $15 all orders need to be in by 5 pm Monday April 17th. This is earlier then the pre-registration date of 5/3. Otherwise, some t-shirts will be available at the tournament for $20.00.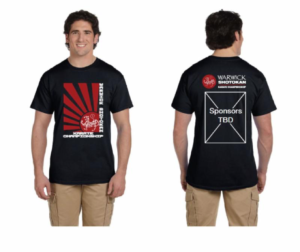 CUSTOM MADE MEDALS FOR GOLD, SILVER AND BRONZE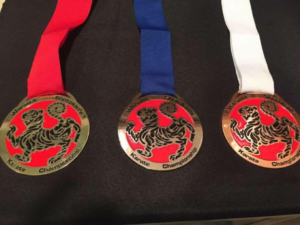 Warwick Shotokan is a member club of: